In Memory
David (Plod) Tarr VIEW PROFILE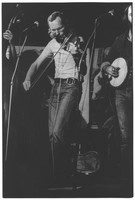 Dave Tarr was with our class during standard 7 and 8 (1969-1970), and whilst a quiet guy, had the most amazing talent. His dry sense of humour led to his very deep chuckle, which I will never forget. Most of all, he was an outstanding musician, playing any instrument he put his mind to, but particularly adept at violin, flute and saxophone. He played in a number of local groups, Newton Fig and FYBO (F#$k Your Brains Out!) being two.
In adult life he indulged in his music with Silver Creek Mountain Band, and sailed the oceans, which he loved. He married later than most, had two beautiful daughters, and sadly died of cancer, just six months before his wife. A thoroughly good guy, who did not suffer fools, with a wit and mind without peer. RIP.
Details of Dave can be found here.
Click here to see David (Plod)'s last Profile entry.